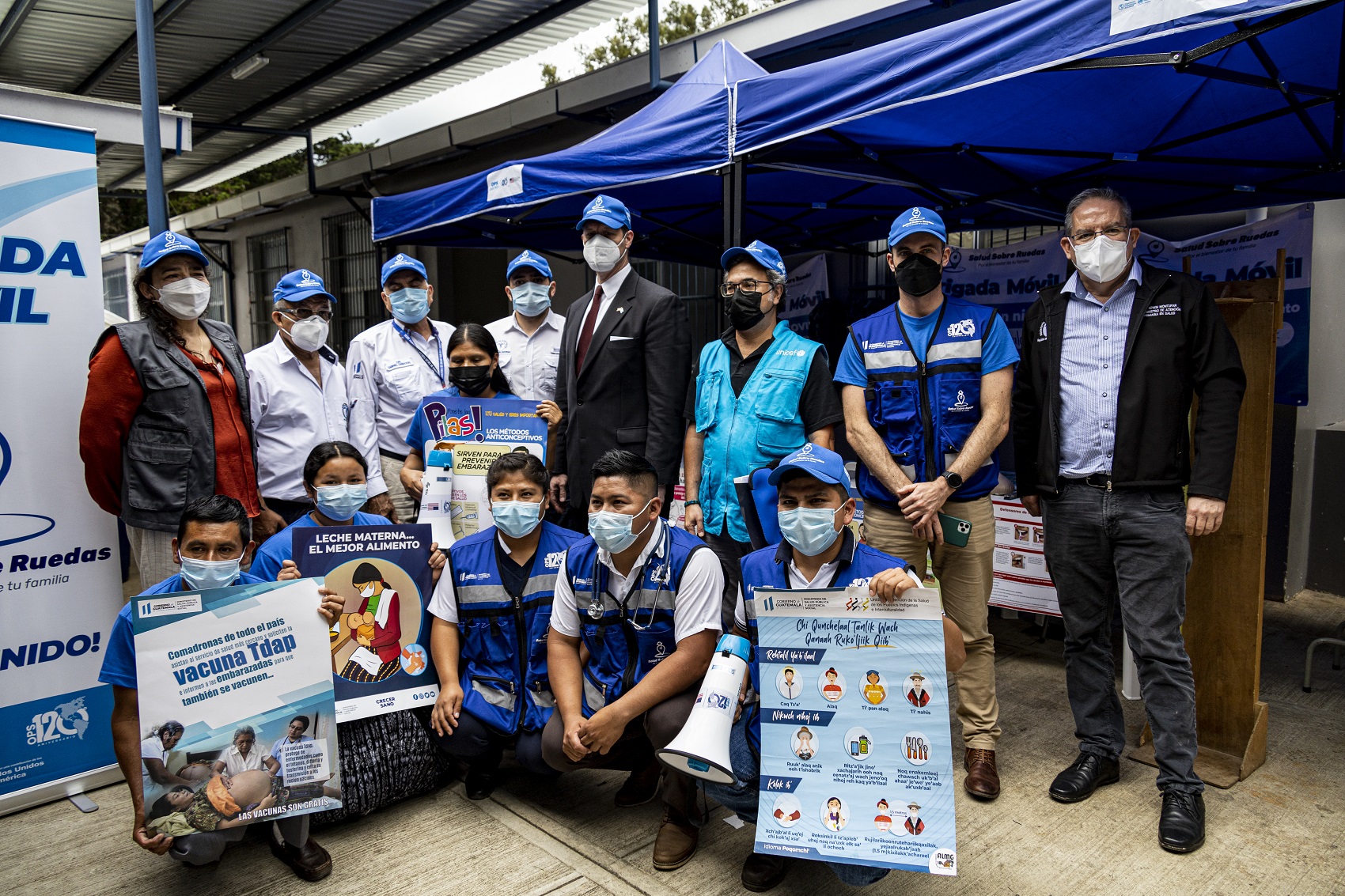 COVID-19 vaccination campaigns were launched in Guatemala in February 2021. Despite several efforts, by April 15, 2022, national COVID-19 two-dose vaccination coverage was <40%.
To help bridge identified gaps in access to COVID-19 vaccination and preventive healthcare, the Ministry of Health´s (MoH) Integrated Healthcare System Directorate, with support from PAHO Guatemala, launched Salud Sobre Ruedas (Health on Wheels) in June 2022. This initiative uses the MoH care model to assess community-level service deployment issues and aims to increase access to the COVID-19 and national immunization schemes. In addition, the model plans to provide primary preventive services to hard-to-reach remote areas through mobile brigades.
The Salud Sobre Ruedas' implementation in Alta Verapaz, a department in the north central part of the country with low COVID-19 vaccination coverage, highlighted the importance of involving local leaders to address COVID-19 vaccination hesitancy, and inform the community about the objectives of the mobile health brigade deployment.
One of these prioritized municipalities, Municipality 12*, is known for its outspoken rejection of COVID-19 vaccines despite multiple efforts from local health personnel to promote its uptake. The high distrust of vaccines led to health personnel being held hostage while COVID-19 vaccines in carriers were destroyed by community members in 2021. Threats to burn down the local health facility led to avoidance in promoting COVID-19 prevention measures or keeping vaccines on site.
Consequently, the local promotion of COVID-19 vaccination by health workers ceased. Despite this widespread mistrust of COVID-19 vaccines, Municipality 12 community leaders approached Salud Sobre Ruedas team members requesting brigades to reach their furthermost territories and communities to provide primary health services, not including COVID-19 vaccination.
As part of preparatory activities for a brigade visit to a community, Salud Sobre Ruedas team members in Alta Verapaz dedicated time to discuss the potential services offered and promotion activities with community leaders from Municipality 12 in August 2022. With the assistance of a native q'eqchi speaker (the local Mayan language), the Salud Sobre Ruedas team listened intently to the reasons behind the community's mistrust of COVID-19 vaccines, learning that community members were fearful and apprehensive of getting a vaccine they only heard about amidst a breadth of circulating misinformation.
Following conversations to explain the main objective of Salud Sobre Ruedas brigades, answering questions and explaining how COVID-19 vaccines work using previously developed PAHO communication guidelines, the team explained that improving access to and acceptability of COVID-19 vaccines is a key component of Salud Sobre Ruedas' mobile brigades. After a productive series of meetings, agreeing to community leaders' requests to accompany any health promotion activities, and to respect community members' personal decisions whether to get vaccinated, approval was obtained for brigades in Municipality 12 to promote and bring COVID-19 vaccines into previously vaccine-rejecting communities.
During visits scheduled for August and September 2022, Salud Sobre Ruedas brigades, with the approval and direct shoulder-to-shoulder accompaniment of local community leaders, could offer COVID-19 vaccination to any person aged over 6 years old who requests it. Additionally, it was agreed that COVID-19 vaccines will be offered at the health post in Municipality 12, without fear of negative consequences towards them.
Since August 18th, 24 COVID-19 vaccine doses have been administered in Municipality 12. Through active listening, dialogue, and one-to-one communication between health personnel and community leaders, Salud Sobre Ruedas is bridging the gap in vulnerable population's access to healthcare in rural Guatemala.
Notes: *This name has been modified to avoid communication risks. Acknowledgements extended to OSAR Guatemala, as key MoH and PAHO partner in coordinating and implementing Salud Sobre Ruedas in Alta Verapaz.
Photo: Meeting with community council members outside the health post in Municipality 12, Alta Verapaz (Credit: WHO?PAHO Guatemala)
Read more about the story here.