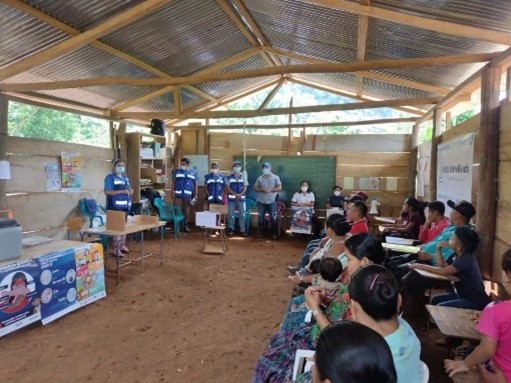 In September 2022, a meeting was held in Tactic, Alta Verapaz, to present the results of joint efforts between the Ministry of Health, PAHO, UNICEF and World Food Programme and mobile brigades that brought integrated COVID-19 vaccination, health and nutrition services closer for hard-to-reach communities in areas with low vaccination coverage.
The Guatemalan Ministry of Public Health and Social Assistance (MSPAS), through the Integrated Healthcare Services Directorate and the Alta Verapaz Health Area, presented the accomplishments of two months of integrated preventive health and nutrition implementation by mobile brigades in hard-to-reach communities in Alta Verapaz through joint efforts with PAHO and UNICEF.
These brigades prioritized immunization, weight and height monitoring, and other preventive health services that the vulnerable populations of 15 municipalities did not have access to during the COVID-19 pandemic. The meeting was held in Tactic, Alta Verapaz, and attended by health personnel from the mobile brigades, Ministry of Health, UNICEF and PAHO, and the Deputy Chief of Mission from the United States Embassy in Guatemala.
Read the full article here.

Photo: Mobile brigade health personnel, Guatemalan Ministry of Health, PAHO, UNICEF, and US Embassy staff at the meeting in Tactic, Alta Verapaz.(Credit: WHO/PAHO)