Temperature monitoring competes with many other priorities for health workers, however the following benefits can be achieved:
The objectives of every immunization supply chain are to ensure:
Vaccine availability
Vaccine potency
Efficient use of resources
The illustration explains why temperature monitoring is so important in achieving these objectives.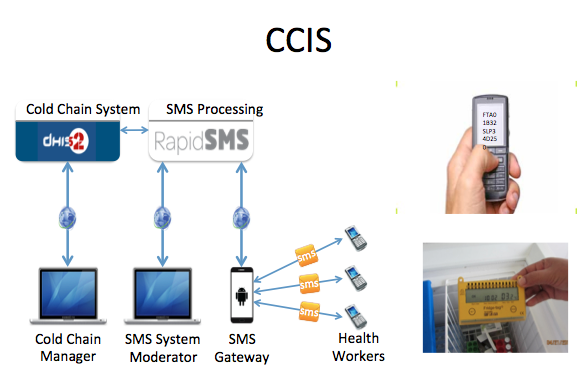 Source: Benjamin Schreiber, Temperature monitoring evidence, strategies, technologies and practices - Where do we go from here? presentation given at TechNet Conference in Bangkok, Thailand, May 2015.
It detects excursions and the immediate benefits are to avoid potential damage to vaccine, thereby reducing closed vial wastage (with many national stores holding at any given time $7 million worth of vaccines, it is considerable) and to avoid the occurrence of disease within "vaccinated" populations.
Evidence provided by the measurements can improve health workers' ability to monitor and manage equipment performance and prevent/avoid future excursions;
On a more long-term and aggregate level, it can provide system-wide data on both equipment and managerial performance to be used to update and maintain the equipment inventory functional status, leading to equipment replacement based on performance rather than only age.
Temperature monitoring cannot be seen in isolation from the other Vaccine Supply Chain elements as shown in the figure below.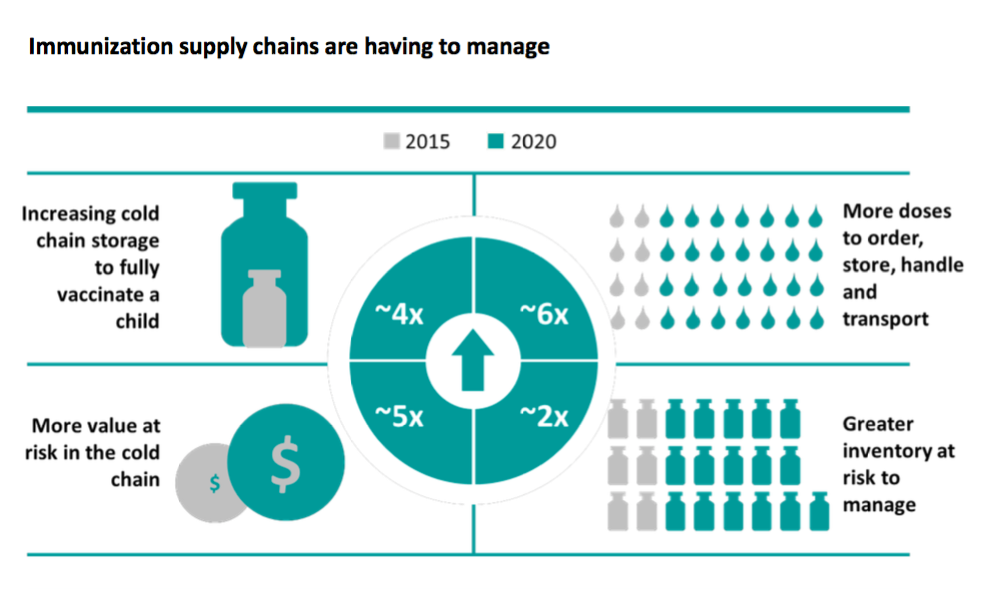 Cold chain capacity studies1 assessing the cold storage capacity available at all levels of the cold chain must get the "full picture"; only functional equipment should be considered and temperature monitoring can provide information on the actual status of the equipment.
An up-to-date equipment inventory system must include not only the nominal equipment but also its functioning status. Temperature monitoring can help make an evidence-based diagnosis of the equipment and identify the most appropriate refrigerators for the specific field environment.
Effective vaccine stock management2 plays a decisive role in maintaining adequate stock, matching available cold chain capacity at every level.
Regular supportive supervision and data-driven system performance management can help achieve a comprehensive temperature management system, whole-lifecycle management of equipment including an alarm reporting system triggering reliable user & managerial response.
Notes
In 2014 a cold chain assessment in Uganda found that 26% of the refrigerators were not functioning as required.
Many tools are available for countries to have a good overview of their planned vaccine deliveries at central level. For countries that procure their vaccines through UNICEF Supply Division (SD), a

Provisional Plan

is established at the end of each calendar year with the planned deliveries for the upcoming year, the weight and volume of these deliveries and the cold chain requirements for receiving these deliveries. This plan is established based on the annual Country Forecast and any deviation to consumption should be referred back to the supplier. For example, if the introduction of new GAVI funded vaccines progresses slower than anticipated and the central store has sufficient stock to cover consumption for the upcoming 6 months, any upcoming planned delivery should be postponed, in order to avoid overstock. Furthermore a Cold Chain Weight and Volume calculator is available to accurately calculate the weight and volumes of upcoming shipments. This can help determine ahead of receiving new vaccine deliveries if appropriate storage is available in the central store and to plan transport. A sample of the Provisional Plan can be found in the resources. This document is shared with the country EPI manager when it is issued. The local and regional UNICEF Office can access it at any time through the UNICEF SD intranet Country pages.
Related resources