The story of a time and temperature indicator (vaccine vial monitor) that has dramatically changed the course of vaccine management practices as well as shaped the future of cold chain, THE BOOK OF VVM: YESTERDAY-TODAY-and-TOMORROW is now available for free download in ePUB3 and PDF formats.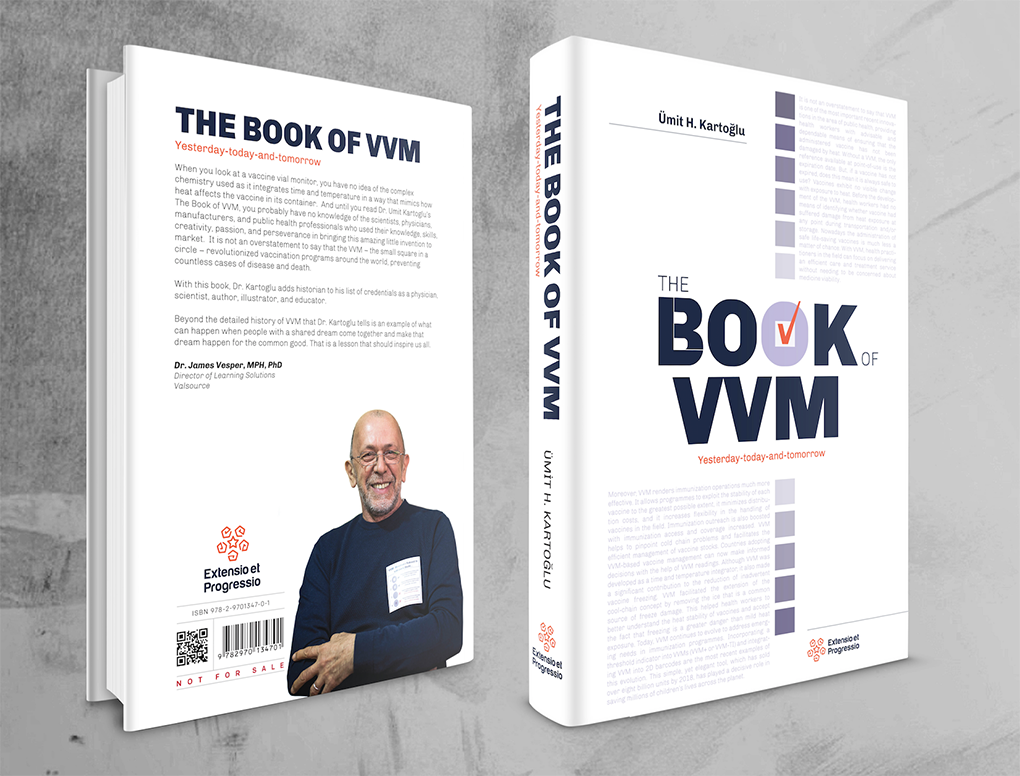 We may ask ourselves where humanity might be without some of the greatest inventions that have come to pass. Great ideas have continuously changed the path of human civilization over time with vaccination being widely considered one of the greatest medical achievements of modern civilization. Many commonplace and preventable childhood diseases are now increasingly rare because of vaccines. The concerted human effort to bring the vaccines to the ones who need them at the right time is remarkable.
Just one example of the dedication and self-sacrifice involved was the 1925 'Serum Run' between the settlements of Nenana and Nome in Alaska also known as the Great Race of Mercy. This involved a famously grueling winter expedition across the frozen Alaskan interior using dog-sled relays to take diphtheria antitoxin to the beleaguered township of Nome where an outbreak of diphtheria was threatening around 10,000 local Alaskan natives who had no natural immunity to this lethal disease. The epic journey took 20 mushers and about 150 sled dogs just five and a half days to cover the 1,085 km route. This display of bravery and determination was how the small town of Nome and the communities surrounding it were saved from an incipient epidemic. Balto, the lead sled dog on the final leg into Nome, became the most famous canine celebrity of the era. Balto's statue became a popular tourist attraction both in New York City's Central Park and downtown Anchorage in Alaska.
The vaccine vial monitor (VVM) is one of the most important inventions of the last century; one that has dramatically changed vaccine management practices and continues to shape the cold chain. In 1996, when VVMs started to get to countries with the oral polio vaccine (OPV), I was the health officer for the UNICEF Central Asian Republics and Kazakhstan Area Office. I remember one particularly cold night going to the airport in Almaty at 03.00 am to receive the very first shipment of OPV with VVMs. For years, I was a humble VVM user and advocate in the field. Things started to change when I was hired by the WHO Headquarters 'Access to Technologies' team in 2001 and VVM became one of my prime responsibilities. That was at a time when vaccine manufacturers were dragging their feet about incorporating VVM onto vaccines other than OPV. My brief was to overcome this resistance from the manufacturers, an objective that formed the basis for my plans for the historic 2002 VVM technical consultation meeting.
In 2007, I immensely enjoyed organizing the event to celebrate the 10th year anniversary of VVM introduction. Visiting Niger, Indonesia, and Vietnam for the shooting of the "Five Senses" video is full of cherished moments.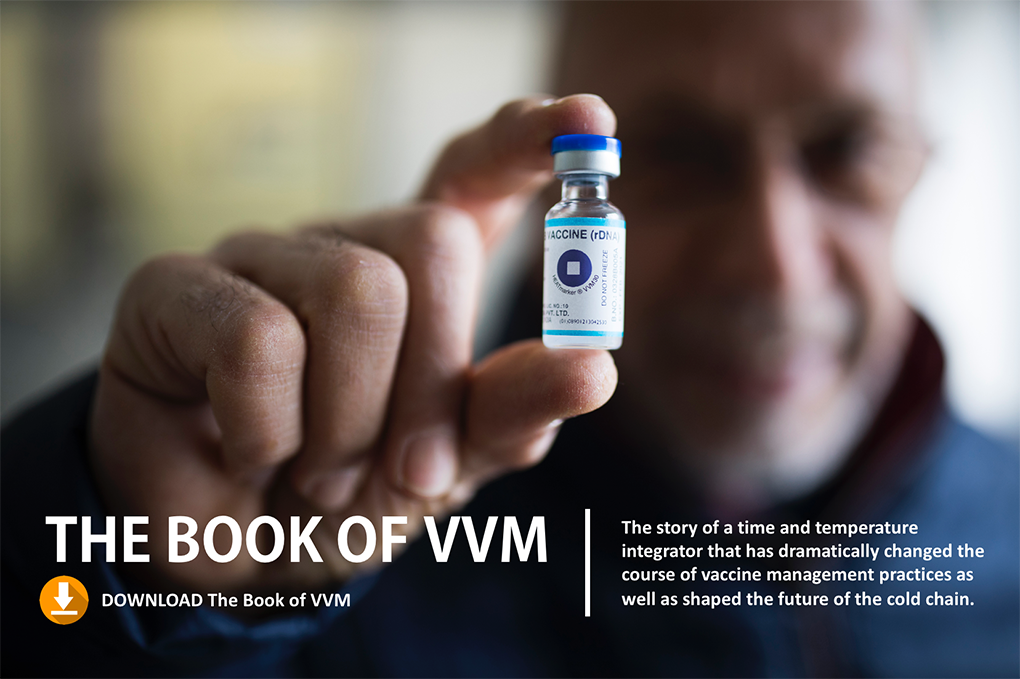 Towards my retirement in August 2018, I conceived the idea of writing this book. I was one of the few people who had witnessed the decades-long programme of VVM development from its birth to its maturity. I had worked with sweat and tears to get VVMs onto all vaccines as well as tirelessly helping vaccine managers and health staff to excel in using the VVMs to their utmost potential. Today, it is a great pleasure to see one of my e-VVM based vaccine management course graduates (2015), Junaidu Adamu Barde from Nigeria, working for the Clinton Health Access Initiative, using the course learning materials to duplicate efforts in his country.
I worked on this book from September 2018 to August 2019. I went through every single published and unpublished work on VVMs, watched all available videos about VVMs and the early contending products, talked to key people, some face to face, others over the phone. I visited the U.S., Albania, Burkina Faso, and Sierra Leone. Unfortunately, there were some people I just could not reach despite all my efforts with email and phone messages. And, although I considered myself highly knowledgeable about VVM, I was simply amazed at the volume of new information I discovered and the knowledge I gained.
I had originally wanted this book to be a concise, structured, globally-relevant manual that provided comprehensive information on a wide scope of issues; in other words, an 'A-Z of VVM'. In the event, it turned out to be more voluminous than I thought. I did not want to restrict myself when there are so many clever, dedicated and selfless individuals that have made this near-miraculous innovation a reality and in doing so contributed to saving, literally, the lives of millions.
So, I am happy that it became a celebration of all the efforts of individuals, organizations, agencies, donors, and manufacturers involved in the development, scaling, applying, advocating for, enforcing, helping health workers to excel in their practice, and using it.
As with my previous books, I have again licensed this work under the Creative Commons (CC) Attribution-NonCommercial-ShareAlike 4.0 International License (CC BY-NC-SA 4.0). The book can be reproduced, remixed, tweaked or built upon non-commercially.
I am grateful to Temptime Corporation, and especially to Renaat Van den Hooff and Ted Prusik for sponsoring the creation of this book. I thank Emily Moore for the VVM literature list she put together, it eased my search enormously. I also thank all the individuals I have interviewed for their time and everything they have shared with me. I am thankful to all my colleagues who sent me photographs, and documents. Many thanks to Kadir Abbas for making again an excellent job on the cover and page design, print, and ePUB3 conversion. Gencer Yurttas deserves a special thank you for his immaculate VVM photography. I deeply appreciate Alan Kennedy for his editing work, and Umran and Gokhan Akaalp's help in developing the book's website. I am grateful to my wife Nellie and daughter Deniz Nala who supported me with love. Deniz Nala was already helping me at the age of 14 measuring VVMs with a spectrodensitometer and entering data into an Excel sheet to calculate optical density differences during a VVM based vaccine management eLearning course.
I never imagined that for something only 0.38 cm2 in size that I could write a book of 424 pages. This 'little big thing', now reinventing itself with the incorporation of a peak threshold indicator as well as entering the digitized supply chain with the integration of 2D barcodes, never ceases to amaze me.
For download please visit http://kartoglu.ch/vvm
The book is available both in interactive PDF (32.9 MB) and ePUB3 (24.4 MB) versions. 424 pages...